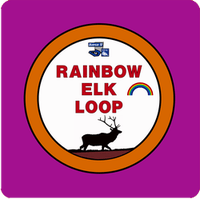 ---
The Rainbow Elk Loop encompasses several extremely scenic areas; Killaney Park, with an abundance of wildlife including Elk. February 1996, the Ontario government announced, an elk restoration program. As of 2012, MNR estimates a population of 165-195 elk in the Rainbow Elk Loop area. It's common to see Elk along this loop.
The La Cloche Mountains, also called the La Cloche Range, are a range of hills in Northern Ontario, along the northern shore of Lake Huron near Manitoulin Island. The hills are located in the Canadian Shield, and are composed primarily of white quartzite. With an estimated age of 3.5 billion years, the La Cloche Mountains are one of the oldest mountain ranges on Earth. The hills comprising the La Cloche Mountains are believed to have once been higher than today's Rocky Mountains. They remain among the highest altitudes in Ontario. According to legend, the hills were warning bells, or tocsins, used by local First Nations for signaling. These "Bell Rocks" could be heard for a considerable distance when struck, and accordingly when voyageurs explored the area they named it with the French word for "bell" — La Cloche
In 1934 Joachim Gauthier took this famous photograph of Franklin Carmichael painting at Grace Lake while the two artists were on one of their many painting expeditions. Carmichael, a member of the Group of 7, is seated on a white quartzite rock of which the La Cloche Mountains are made of.
This loop can make an extremely enjoyable day ride for high mileage tourers or a two day long family ride. The route contains comfort stations, places to pull-over beside the trail, ready access to the scenic lookouts for the photo buffs wanting memories and shortcuts for the riders not wanting to do the entire loop. It also passes throught the boreal forests and hardwood and coniferous forests. The loop has some of the most diverse riding in the area including, old rail lines, winding bush trails, old logging roads, fields and well staked lakes.