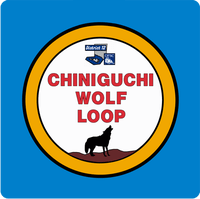 ---
Have you ever ridden the Chiniguchi Wolf Loop? This exciting loop travels on four different club trails. Goes through the Wolf Lake Forest Reserve, one of Ontario's old growth forests. The Living Legacy Land Use Strategy protected approximately 2,400 hectares of Boreal Forest, including Wolf Lake. Check out the scenic lookout from on Top of Wolf Mountain and view the old growth Red Pines and Majestic Lakes.
Many of the trees here are well over 200 years old!
"Scientists from Laurentian took some cores, and found one that is 310 years old," says Franco Mariotti of Science North. "We also have a cross-section, of a tree that was cut down in 1988 for an exhibit on climate change, and it's 240 years old. There are scars showing five fires that were survived over the life of this tree, which goes back to about 1760." That would be 30 years before the formation of Upper Canada.
Sledders like the route because it's a scenic one, and also because it gets a lot of white stuff early in the season. "It tends to be the first trail we open in the (Sudbury Trail Plan) system," Al Ross, President Nickel Belt Snow Spirits says. "For some reason, it seems to make a lot of snow up there."
Nickel Belt Snow Spirits maintains an outhouse at the base of the mountain — a nice one, too, as far as outhouses go — at a strategic fork in the C206D route.
Ishpatina Ridge, the highest point in Ontario, is visible from the lookout on Wolf Mountain.
Before the times of the dinosaurs, a meteorite hit the Earth creating the Sudbury Basin, the second largest impact crater on Earth. The impact cracked the Earth's crust, releasing metal-rich magma. These metals helped secure the Sudbury region as one of the world's largest suppliers of nickel and copper ores. While riding the Chiniguchi Wolf Loop, you will ride past old mining claims and active mine sites. And always keep an eye out for wild life! It's not uncommon to see Moose, Coyotes, Timber Wolfs and Northern Lynx along the Chiniguchi Wolf Loop!
The Chiniguchi Wolf Loop is highlighted on the District 12 Trail Guide and this loop has unique trailside identifier signage. Maybe it's time to do the loop!